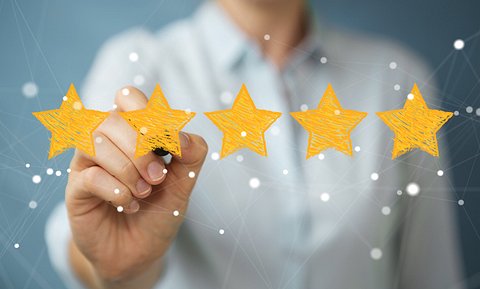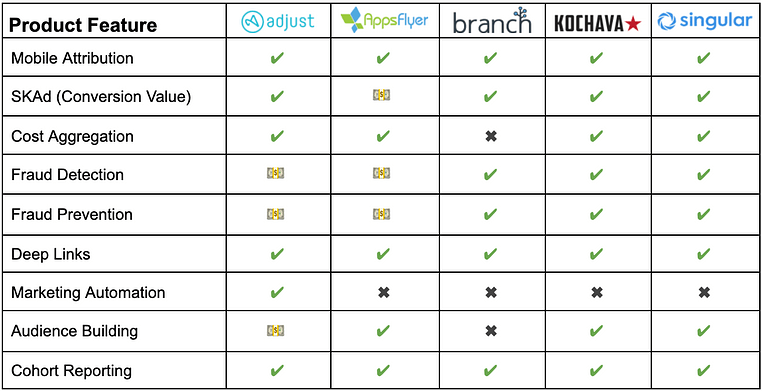 You Might Like These Articles
The Best Mobile Attribution Platform
Did you Like this Article ? Share It!
Compare Mobile Attribution Software
We see them in trade shows, they advertise aggressively against one another, they all offer incentives to developers to choose their product - but who are the best mobile attribution platforms ?
Mobile tracking and attribution is a critical component for marketing. Even though the world is changing and attribution is becoming a commodity product with free services like SKAdnetwork 2.2. Mobile attribution platforms offer so much more than just attribution as a service.
Disclaimer: INCRMNTAL is not affiliated with any of these companies. We know them very well, and respect what each of them has done for mobile developers for the past decade.
For the sake of no prioritization, the list is organized alphabetically:
Best Mobile App Attribution Tools 2020
Adjust
Founded: 2012
HQ: Berlin, Germany
"Mobile Measurement made easy: Adjust unifies all your marketing activities into one powerful platform, giving you the insights you need to scale your business."
Adjust is a global app marketing analytics platform committed to ensuring the highest privacy and performance standards. Adjust's solutions include measurement, fraud prevention, cybersecurity, and automation tools. The company's mission is to make mobile marketing simpler, smarter and more secure for the more than 50,000 apps working with Adjust.
Learn more about Adjust here: Adjust
Appsflyer
Founded: 2011
HQ: Herzeliya, Israel
"Accurate data, a customer-centric approach, and privacy by design make AppsFlyer the attribution platform of choice for the world's leading brands."
AppsFlyer, the global attribution leader, empowers marketers to grow their business and innovate with a suite of comprehensive measurement and analytics solutions. Built around privacy by design, AppsFlyer takes a customer-centric approach to help 12,000+ brands and 6,000+ technology partners make better business decisions every day.
Learn more about Appsflyer here: Appsflyer
Branch
Founded: 2014
HQ: San Francisco, CA, USA
"The gold standard in mobile growth. Branch's deep linking and mobile attribution helps you build great user experiences and measure your users' journeys."
Transforming how brands and users interact across digital platforms. The Branch mobile marketing and deep linking solutions are trusted to deliver seamless experiences that increase ROI, decrease wasted spend, and eliminate siloed attribution. By integrating Branch technology into core marketing channels including apps, web, email, social media, search, and paid ads, leading brands are driving higher-value conversions than ever before.
Headquartered in Redwood City, CA and with offices around the globe, Branch has raised more than $330M from investors such as NEA, Founders Fund and Playground Ventures. We power mobile links, attribution, and measurement for more than 3 billion monthly users and over 50,000 apps, including Airbnb, Ticketmaster, Reddit, Buzzfeed, Twitch, OfferUp, Poshmark, and many more, and are working on exciting new ways to improve discovery in the mobile ecosystem.
Learn more about Branch here: Branch
Kochava
Founded: 2011
HQ: Sanpoint, Idaho
"Kochava is the industry leader for mobile app attribution and mobile app analytics. Helping achieve measurable growth through mobile user acquisition research."
Kochava's Unified Audience Platform provides precision, real-time omni-channel attribution that helps data-driven marketers measure and optimize their marketing for every customer journey.
Kochava delivers what marketers need, when they need it, to establish customer identity and segment and activate audiences in a privacy-first world, leveraging data from the Kochava Collective for audience enrichment.
Learn more about Kochava here: Kochava
Singular
Founded: 2014
HQ: San Francisco, CA, USA
"The world's top marketers at companies like Lyft, LinkedIn, Rovio and Microsoft use Singular to unify marketing data, apply attribution, and expose performance insights needed to drive growth."
Singular is a marketing intelligence platform that unifies marketing analytics, giving marketers actionable insights from previously siloed data. By connecting upper funnel marketing data with lower-funnel attribution data, marketers can measure ROI from every touchpoint across multiple channels and optimize spend down to the most granular levels. Singular currently tracks over $10 billion in digital marketing spend to revenue and lifetime value across industries including commerce, travel, gaming, entertainment, media, and on-demand services. Singular customers include companies like Lyft, Yelp, Airbnb, LinkedIn, Symantec, Zynga, Match, and Twitter. Singular is backed by Norwest Venture Partners, General Catalyst, Thomvest Ventures, Method Capital, Translink Capital, DCM and Telstra Ventures.
Learn more about Singular here: Singular
When a user clicks an ad, advertisers display an App Store product screen with signed parameters that identify the ad campaign. If a user installs and opens an app, the device sends an install validation postback to the ad network. The Apple-signed notification includes the campaign ID but doesn't include user- or device-specific data. The postback may include a conversion value and the source app's ID if Apple determines that providing the values meets Apple's privacy threshold.
INCRMNTAL is an incrementality measurement platform helping marketers test the value of their marketing spend. Our software works in alignment with mobile attribution platforms and SKAdnetwork to help marketers get even more value.
If you want to learn more, visit INCRMNTAL or book a demo today!
We cannot forget to mention the upcoming solution offered by Apple for iOS Developers
SKAdnetwork 2.2
SKAdnetwork helps advertisers measure the success of ad campaigns while maintaining user privacy. The API involves three participants:
Ad networks that sign ads and receive install notifications when ads result in conversions

Source apps that display ads provided by the ad networks

Advertised apps that appear in the signed ads
Ad networks must register with Apple, and developers must configure their apps to work with ad networks.
The following diagram describes the path of an install validation. App A is the source app that displays an ad. App B is the advertised app that the user installs.
What is Mobile Attribution?
Mobile attribution is the process of tracking and matching inventory to action , such as a click to an install to an install, a registration or any event that can associate media inventory to users who may become customers.
Why is Attribution Important ?
When the app stores "opened shop", app developers had to rely on various methods to match between paid media inventories and the user installs. The Apps available on mobile operating systems (iOS, Android) did not work the same as websites.
While internet advertising resided all within your browser, Advertisers were able to use a browser "cookie" to track a user activity across multiple websites.
Apps - worked differently - and in order to track a user activity across 2 apps, or create a match between users surfing a mobile website and downloading an app - advertisers had to rely on attribution platforms creating a match between the users impressions/clicks and the conversion points.
What can Mobile Ad Attribution Do ?
Attribution can create a unique URL for every media source, as well as allow media vendors to insert a unique ID per impression and click.
The unique ID may either be a Device ID (i.e. IDFA, AAID, GAID) or a randomized ID generated by the media vendor's platform.
When opening an app for the first time, an attribution platform SDK will either collect the device ID to "match" with any click id containing this parameter, or, create a device "fingerprint" using unique identifiers such as the device IP, location, language and so on.
What you need to know about attribution tools ?
Attribution solutions allow marketers to track campaign performance for:
User Acquisition campaigns

Retargeting campaigns
Best Mobile Attribution Software
How to choose the best mobile attribution partner for your app ?
Which are the Highest Rated, Easiest to Use ?
Comparing Mobile Attribution Providers: