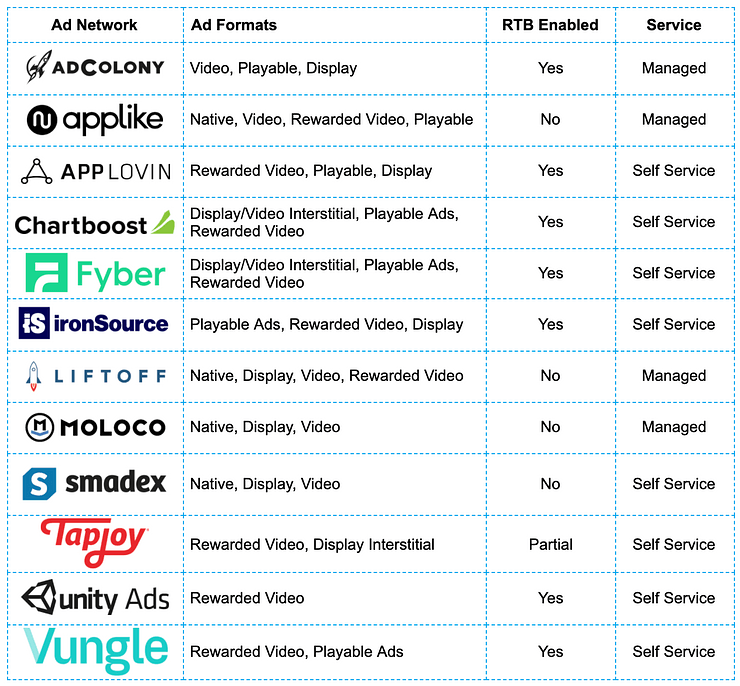 You Might Like These Articles
What are the BEST media vendors to use in 2021
There are practically thousands of ad networks and media providers on the LUMA Mobile scape advertisers can choose from. Managed solutions, self service platforms, programmatic trading platforms, and unique advertising opportunities such as in-game, podcasts, influencers, CTV and so on.
Selecting which ad networks are best suited for each Advertiser can be a challenging job, as while one network can work very well for one advertiser, it may provide terrible results for another.
Top Ad Networks for 2021
The list below provides information about well known, respected, and trustworthy ad networks.
These networks offer inventory by monetizing publishers with their SDK or by operating own apps as publishers:
Automation & Programmatic Platforms
Many of the largest Ad Networks are RTB enabled, allowing Advertisers to use programmatic platforms to bid on traffic and manage the buys and optimization using a Demand Side Platform.
Kayzen.io is one of the leading software providers of programmatic DSPs, allowing Advertisers to use optimization algorithms or develop their own algorithms for optimization.
Platforms like BidShake are also useful, automating the manual part of campaign optimization based on rules, rather than forcing Advertisers to use multiple dashboards wasting operational time and wasting budgets.
INCRMNTAL has no affiliation or bias towards any of these ad networks. We do not trade in media and offer no opinions on any of the networks on the above list or any other ad networks.
INCRMNTAL is a measurement platform allowing advertisers to test the incremental value of their activities. The platform works with all attribution solutions and requires no SDK or code for integration. Unlock the value of your marketing spend.
If you want to learn more, visit INCRMNTAL or book a demo today!
Did you Like this Article ? Share It!
This article will answer the following questions:
What Is an Ad Network and why do you need one?
Which are the best marketing vendors available to build your tech stack?
Top Ad Networks and Mobile Ad Networks?
How to find great marketing vendors?
What is the difference between a media vendor and a media owner?
How to choose the right media vendor for customer acquisition?